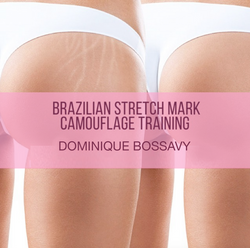 Dominique Bossavy
STRETCH MARKS C AMOUFLAGE TRAINING
Nanocolor stretch marks camouflaging is a positively life changing procedure, that instantly gives back confidence and self-esteem. 
My training is tailored to give you a strong knowledge needed to stand out and provide beautiful results in a short period of time. The training covers all aspects of the procedure, demonstrations, hands-on practice to give you the most solid foundation to jump start your new career, or expand the one you already have. 
Having pioneered this technique back in France in the late 90's, I have perfected the insides out of the procedure and have mastered it's successful application on all types of skin.  
I constantly perfect and explore new custom tones and techniques with my pigment mix, I have perfected over the years and exclusively used on all my procedures, and o share with all my students (past and present) even after we've met. After your training, I'm certain you will have the confidence to continue to evolve and refine your knowledge, for the delight of all your clients. 
In this  training you will learn the fundamental  and all my secrets and tips for a successful stretch marks camouflage.
-  Understanding skin tone  and undertone
- False tone
- Structure of a stretchmarks
- Understanding the 9 variations of stretch marks
- Treatment variation for each variation
- How to avoid the common mistakes and avoid disaster

- Perfect custom color match
- Expectations
- How to qualify your clients and more

- Healing schedule
- Do's and don't
and more